Biography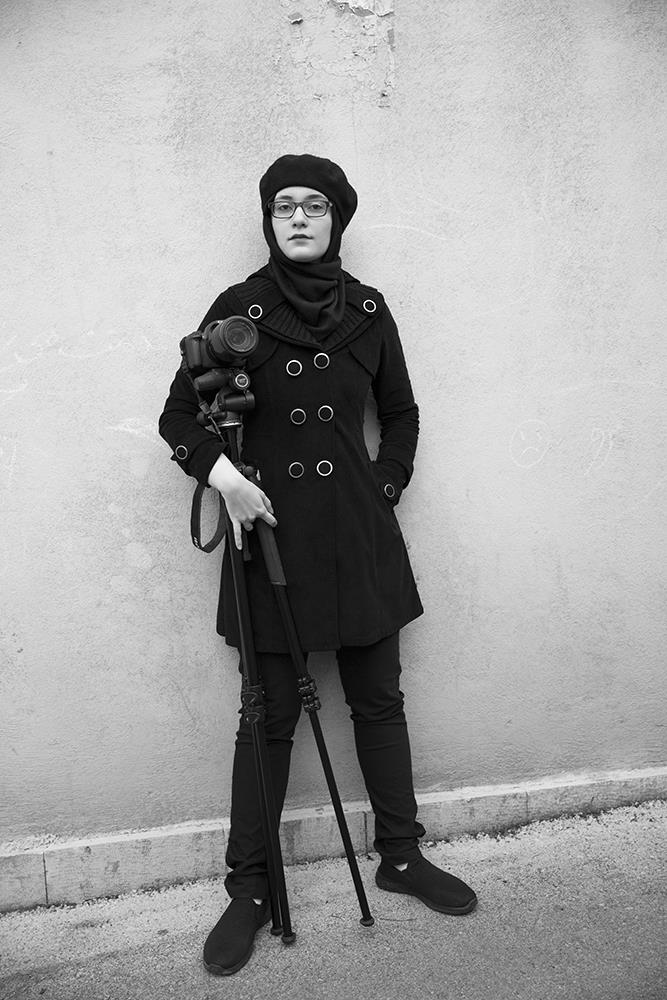 Mahdiyeh Afshar bakeshloo
Personal details
Mahdiyeh Afshar bakeshloo (Persian: مهدیه افشار بکشلو (is an Iranian fine art photographer. she was born in 1995 in Tehran (Iran).
about my works:
My works consist of black and white photos and their style mostly is fine art, conceptual or photo manipulation. Most of the time I follow geometry and some sort of rhythm in my works.
Whenever I work my feeling reflects on my work and shaped them whit my inner thought. I would like to get a common point with them in order to speak with them.
When I show my photos to people I like them to find questions and try to find answer. I don't tend to explain everything so I prefer them to engage with them.
Each of my project explains human feeling such as sadness, loneliness, Confusion. I try to make viewers find their hidden feeling in my photos.
I most of the time inspired by painter like Salvador Dali or Rene Magrtte. Their paintings are the beginning of my inspiration and nature help me to imagine what I am looking for. I like to have repeat in my photo and nature with its repeat and cycle help me a lot.
I mostly take photos from everywhere and then I use every piece in my project. I try to make new space with high contrast. I try to break the law by creating weird environment which reflects on my feeling.
When I decide to become friend it was hard for the first time because I have to change with it regardless I like it or not. But after a while I realize art means changing what it is here and make new thing.
Published:
Monochrome Awards Annual Book – 2015
Showcase at the online Winners' Gallery at Monochrome Awards 2015
Monochrome Awards Annual Book – 2016
Showcase at the online Winners' Gallery at Fine Art Photography Awards 2016
Showcase at the online Winners' Gallery at International Photography Awards 2016
Showcase at the online Winners' Gallery at Monochrome Awards 2016
Showcase at the online Winners' Gallery at Monochrome Awards 2017
Showcase at the online Winners' Gallery at Fine Art Photography Awards 2017
Showcase at the online Winners' Gallery at International Photography Awards 2017
Showcase at the online Winners' Gallery at Neutral Density Photography Awards 2017
Monochrome Awards Annual Book - 2017
Exhibition:
Monochromerific black and white exhibition at More Art Please fine art gallery (Romania_Brasov) 2020
Group exhibition" vakavi"at Ehsan art gallery (Tehran_ Iran) 2019
ANNUAL PHOTO GROUP EXHIBITION at Mojdeh Art Gallery (Tehran_ Iran) 2019
Group exhibition" The last event of 97 "at mojdeh art gallery (Tehran_ Iran) 2019
Conceptual Photos Exhibition at Blank wall gallery (Athens - Greece )(16 November – 28 November) 2018
Group exhibition" summer Photography sale "at artibition gallery (Tehran_ Iran) 2018
Group exhibition" summer Photography sale "at mojdeh art gallery (Tehran_ Iran) 2018
Group exhibition "ide ta era" at Arman college (Tehran_ Iran) in 2015
Collections:
Arman College, Tehran/Iran
Awards:
Honorable Mention in Professional Fine Art Category in Monochrome Photography Awards 2015(Awarded entry book man)
Nominee in 2nd edition of Fine Art Photography Awards in Professional Fine Art Category 2016(Awarded entry book man)
Nominee in 2nd edition of Fine Art Photography Awards in Professional Fine Art Category 2016(Awarded entry outer breath)
Nominee in 2nd edition of Fine Art Photography Awards in Professional Portrait Category 2016(Awarded entry Girl with a Pearl Earring)
Honorable Mention in Professional Fine Art: Other Category in IPA 2016 (unknown planet)
Honorable Mention in Professional conceptual Category in Monochrome Photography Awards 2016(Awarded entry hungry forks)
Honorable Mention in Professional conceptual Category in Monochrome Photography Awards 2016(Awarded entry outer breath)
Honorable Mention in Professional photo manipulation Category in Monochrome Photography Awards 2016(Awarded entry Suspension)
Nominee in 3rd edition of Fine Art Photography Awards in Professional Fine Art Category 2017(Awarded entry unknown planet)
Nominee in 3rd edition of Fine Art Photography Awards in Professional Conceptual Category 2017(Awarded entry unknown planet)
Nominee in 3rd edition of Fine Art Photography Awards in Professional Photo manipulation Category 2017(Awarded entry Suspension)
Nominee in 3rd edition of Fine Art Photography Awards in Professional Fine Art Category 2017(Awarded entry Suspension)
Nominee in 3rd edition of Fine Art Photography Awards in Professional Fine Art Category 2017(Awarded entry just like human, just like fruit)
Nominee in 3rd edition of Fine Art Photography Awards in Professional Fine Art Category 2017(Awarded entry hungry forks)
Nominee in 3rd edition of Fine Art Photography Awards in Professional Conceptual Category 2017(Awarded entry Body feeling)
2 Nominees in second stage in the second annual international 35awards contest 2016. (Awarded entries: Girl with a Pearl Earring, untitled)
Honorable Mention in Professional Fine Art: Abstract Category in IPA 2017 (Awarded entry The lights in the city)
Honorable Mention in Professional Fine Art: Abstract Category in IPA 2017 (Awarded entry In to the new world)
Honorable Mention in Professional Special: Digitally Enhanced Category in IPA 2017 (Awarded entry In to the new world)
Honorable Mention in Professional Fine Art: Other_FA Category in IPA 2017 (Awarded entry In to the new world)
Honorable Mention in Professional Fine Art: Portrait Category in IPA 2017 Awarded entry (Two sisters)
Honorable Mention in Professional fine art: other category in Neutral Density Photography Awards 2017 (Awarded entry The light in the city)
Honorable Mention in Professional Portrait Category in Monochrome Photography Awards 2017(Awarded entry Miss Zizi)
Honorable Mention in Professional Photomanipulation Category in Monochrome Photography Awards 2017(Awarded entry Mr. Fork and Mrs. Spoon)
Honorable Mention in Professional Conceptual Category in Monochrome Photography Awards 2017(Awarded entry overcome)
Honorable Mention in Professional Conceptual Category in Monochrome Photography Awards 2017(Awarded entry Touch of life)
Honorable Mention in Professional Fine Art Category in Monochrome Photography Awards 2017(Awarded entry Unknown)
Nominee in 4rd. edition of Fine Art Photography Awards in Professional Conceptual Category 2018(Awarded entry loneliness)
Honorable Mention in Professional fine art: Conceptual Category in Neutral Density Photography Awards 2018 (Awarded entry No face)
Honorable Mention in Professional Conceptual Category in Monochrome Photography Awards 2018(Awarded entry Egg eyes)
Nominee in 5rd edition of Fine Art Photography Awards in Professional Fine art Category 2019(Awarded entry TERRESTRIAL SKY)
Nominee in Spider Photography Awards in Professional Fine art Category 2019(Awarded entry Choking)